Cavalon
Within a few months of the market premier in 2012, the Cavalon received the Red Dot Design Award in the product design category.
With more than 18,000 entries yearly from design professionals, companies and organizations from over 70 countries, the "Red Dot Design Award" is one of the world's largest and the most renowned design competition.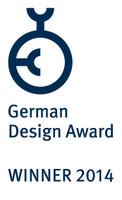 Commissioned by the German Bundestag, the German Design Council is one of the world's leading design competence centers. The Cavalon received the prestigious German Design Award in 2014, chosen from approximately 1,900 high-quality nominations. The award recognizes exceptional design and innovation. The foundation is one of the world's leading competence centers for communication and brand management in the field of design. The best 90 design products are selected as award winners from approximately 1,900 high-quality nominations.
Pure craftsmanship – Made in Germany
Every Cavalon is designed to incorporate aesthetics, functionality, and elegance, resulting in a unique and attractive aircraft.
The Cavalon side-by side seated model is probably the best in the world. Stunning to look at and stunning to fly. Smooth, low vibration, fast, comfortable, economical, this is a machine to envy. Yet it is a real workhorse too.
The tough carbon and glass fibre body withstands the rigours of day-to-day work, always ready for action at the turn of a key. Maintenance is easy, with fast removable cowlings, giving quick access to the low maintenance Rotax 915 or 916 series engines.
The Aluminium rotors, chosen for robustness and reliability (composite rotors tend to suffer in high and low temperatures, and suffer rain erosion), chop through whatever the weather throws at them.
And AutoGyro is rightly proud of the safety features. The occupant safety cell protection is a proven and unique concept that works effectively in the real world. Furthermore, the aircraft is equipped with numerous detail systems to ensure safety. Including dual oil pressure warnings, fire warning, dual coolant temp warning, dual fuel warnings, multiple radio fitment, and ADSB. This is where years and years of experience count.
Of course, in todays world, there is always a need for paperwork. Cavalon has full standard airworthiness and numerous local country approvals, setting it apart in the gyroplane world. No matter which generation you choose, rest assured you are purchasing a globally recognized and safe aircraft.
Could that be why the Turkish Jandarma chose AutoGyro as their supplier of Cavalons for their aerial gyroplane fleet?
So, whether you are simply flying for fun, operating a flying school, or looking for a unique package to suit your hobby style – like water operations or fishing, AutoGyro has an aircraft package for you.
Cavalon offers a vast selection of features and options that can be combined, including amphibious floats and night VFR. Contact us to discuss your dreams, and we can design the perfect package to fit.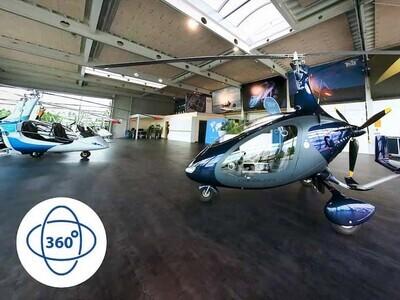 Enjoy the difference
Latest and full range of green Rotax aero engines, including the 916iS.
Hugely comfortable pilots environment.
Easy- adjustable seat position, rake, and pedals.
Heated cabin with variable fan and flow rate.
And plenty of ventilation for hot days.
Heated seats with lumbar support.
Huge option list of Garmin equipment, including ADSB in and out.
Massive payload, MTOM up to 650kg.
Unique occupant safety cell concept.
Long range 100ltr fuel tanks, safe 4 hour range.
Safe and reliable design, as verified by numerous aviation authorities.
Optional auxiliary alternator to give plenty of on-board electrical energy.
Over 500 in service, meaning huge service experience around the world.
Pricing Starts at: € 123.250,- With the Rotax 915 engine
Prices are as is at March 2023 and subject to change without notice.

Prices are ex-works and do not include taxes, shipping cost, import- or customs duties or fees
Technical Overview
Technical Details
Model Details

4,6 m x 1,9 m x 2,8 m
(15.27 ft x 5.85 ft x 9.1 ft)

8.4 m / 8.6 m / 8.8 m
(27.3 ft / 27.95 ft / 28.6 ft)

325 kg (715 lbs)

MTOW (Max Take Off Weight):

600 kg (1232 lbs)

Rotax 915 iS or 916 iS*

260 m (854 ft)

up to 6 hours ***

up to 600 km (360 miles) ****

90-185 km/h (55-110mph)

195 km/h (120mph)

100 L (26.4 US Gallons)

BUT (Germany), Section T (UK), ASRA (Australia),
CCAR-21 (China), USA Primary Category
Technical data can vary regarding country-specific legal requirements and is also depending on
propeller/rotor/ fuel/engine and aircraft configuration/equipment.
Please always refer to the Pilot's Operating Handbook.

*. 914UL engine variant only for special orders, data available separately. For the Swiss market the 915 IS engine is throttled to 120 horse power as required
**. 560kg take-off standard weight on short grass, ISA conditions. Swiss gyroplanes have reduced power with 210m take-off distance.
***. Typical aircraft configuration applies: 1 pilot (80 kg), 40 l fuel, 2000 ft MSL
****. Typical aircraft configuration applies: 1 pilot (80 kg), max fuel, 2000 ft MSL