Within a few months of the market premier in 2012, the Cavalon received the Red Dot Design Award in the product design category.
With more than 18,000 entries yearly from design professionals, companies, and organizations from over 70 countries, the Red Dot Design Award is one of the world's largest and most renowned design competition.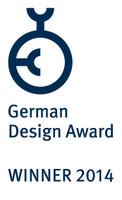 The German Design Council, a foundation commissioned by the German Bundestag, awarded the Cavalon the prestigious German Design Award in 2014, recognizing its exceptional design and innovation. The foundation is one of the world's leading competence centers for communication and brand management in the field of design. The award winners are selected from a pool of approximately 1,900 high-quality design product nominations.
Pure craftsmanship – Made in Germany
Each Cavalon aircraft is thoughtfully designed to combine aesthetics, functionality, and elegance, creating a distinctive and attractive appearance.
The Cavalon side-by-side seated model is probably the best in the world. Stunning to look at and to fly. Smooth, low vibration, fast, comfortable, and economical. This is a machine to envy, yet it is a real workhorse. The tough carbon and fibreglass body withstands the rigours of day-to-day work, always ready for action at the turn of a key. Maintenance is easy, with fast removable cowlings, giving quick access to the low-maintenance Rotax 915 or 916 series engines. Aluminum rotors are chosen for their robustness and reliability, cutting through any weather conditions, unlike composite rotors.
AutoGyro is rightly proud of its safety features. The occupant's safety cell protection is a proven concept. In addition, many detailed systems are available such as dual oil pressure and fire warnings. The aircraft also offers dual coolant temp warnings, dual fuel warnings, multiple radio fitment, and ADSB. This is where years and years of experience count.
Of course, in today's world, there is always a need for paperwork. Cavalon has local country approvals and a full standard category of airworthiness, making it a safe and world-recognized aircraft. This is why the Turkish Jandarma chose AutoGyro as their supplier of Cavalons for their aerial gyroplane fleet!
AutoGyro offers aircraft packages suitable for a range of operations, such as air taxis, flying schools, police missions, and fishing. The Cavalon offers a vast array of customizable options and features, allowing for a tailored experience. Customizable features, like amphibious floats, nose-mounted cameras, and coastguard equipment make the Cavalon suitable for coastal patrols. Contact us to discuss your mission needs, and we can find the right package for you.